Search our Properties

Currency Converter
Why a cave




People who have never been in or seen a cave house, immediately think of Fred and Barney, of cold, damp, prehistoric holes in the ground. In fact, Cave Houses are very dry and warm in the winter and cool in the summer. The average temperature inside a Cave House is 18C (65F). Hence, heating or air conditioning is unnecessary.
WHAT ARE CAVE HOUSES?
Cave Houses are man made out of sedimentary rock. They are to be found in the area between Baza, Guadix and Cazorla. They were created (if that is the right word) instead of cortijos because of the paucity of local building materials at the time and the fact that they are very cool in Summer.
A cave is created over a number of years, starting with two or three rooms and then expanding along with the cave owner's family. Eventually these can become very large indeed (300m2 +) and can offer a level of comfort at least as good if not better than an ordinary house.
The caves were dug usually in the winter as summer was very busy for the farmers. The family would just pick at the rock for month on end until the cave was finished. The walls would then be rendered for smoothness.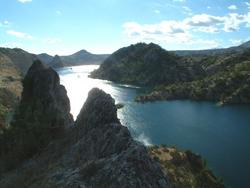 WHY SHOULD I BUY ONE?
Firstly, the fact that they are extremely eco friendly and no heating or air conditioning is required. Secondly, there are no problems with structure such as having to re-roof, lay new floors or rebuild walls. There is no structural movement or problems with wood boring insects or the ingress of water through roofs. Thirdly, you can make as much noise as you like without disturbing the neighbours!
CAN I BUY ONE WITH LAND ATTACHED?
Some cave houses are in villages and consequently only have a small garden. Others are in the countryside and have large amounts of land. Just as any other property, they come in all shapes and sizes
Cave houses have the same rights in property law as any other construction and are registered with the Registro de Propiedad and the Oficina Cadastral. A Mortgage is no problem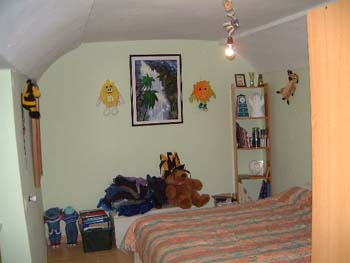 Cave Bedroom
WHAT ABOUT WATER, ELECTRICITY AND SERVICES?

Cave houses are connected to the public services like any other building and do not have any problems in this respect.

DON'T THEY GET STUFFY?

No. Most cave houses have a ventilation shaft which is situated over a fireplace and which acts as a chimney for cooking and a ventilator.
We have a collection of photographs if you are interested in purchasing a cave house. Please do not hesitate to ask.

Also, at the front of the cave is the fascia which has a number of windows as well as a door.

If you are looking for something different from the ordinary, then why not consider a cave house?

We have a collection of photographs if you are interested in purchasing a cave house. Please do not hesitate to ask.
google397e03142a8e5423.html